In today's fast-paced world, where every square foot of living space counts, small laundry rooms have become the norm rather than the exception. However, having a limited space should not mean compromising on functionality or style. In this comprehensive guide we will unveil a plethora of ingenious small laundry room ideas that will not only help you make the most of your space but also leave your room looking chic and organized. Say goodbye to cramped quarters and hello to laundry room perfection!
1. Clever Storage Solutions
Maximizing Vertical Space
One of the golden rules for small laundry room design is to utilize vertical space to the fullest. Install shelves or cabinets that reach all the way up to the ceiling. This not only provides ample storage but also draws the eyes upward, creating an illusion of height.
Fold-Out Ironing Board
Consider a fold-out ironing board that can be discreetly tucked away when not in use. This space-saving solution is perfect for maintaining a clutter-free laundry room.
Rolling Laundry Cart
Invest in a rolling laundry cart with multiple compartments. It not only keeps your detergents and cleaning supplies organized but also adds a touch of mobility to your laundry routine.
2. Compact Appliances
Stackable Washer and Dryer
For those with limited floor space, a stackable washer and dryer set is a game-changer. These appliances can be vertically stacked to save valuable floor space, allowing you to create additional storage or workspace.
Slimline Laundry Machines
Opt for slimline or compact laundry machines that are designed to fit into tight spaces. They are just as efficient as their larger counterparts but take up a fraction of the room.
3. Creative Layout Ideas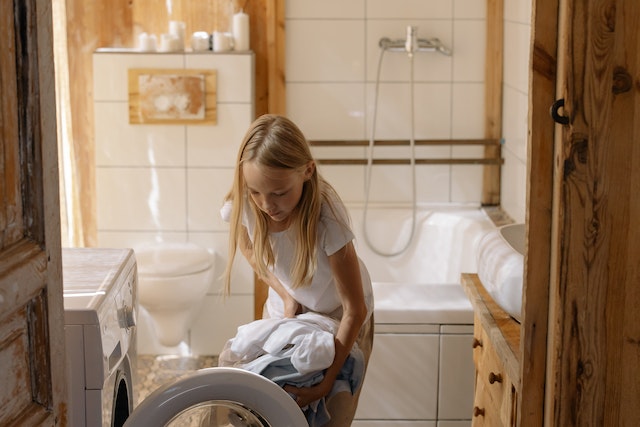 Under-Stair Laundry Nook
If your home has a staircase, consider utilizing the space underneath it as a laundry nook. This often underutilized area can be transformed into a sleek and hidden laundry room.
Closet Conversion
Convert a spare closet into a small laundry room. Install shelves, a compact washer and dryer, and a fold-out ironing board to make the most of this concealed space.
Kitchen-Launderette Combo
In apartments or small homes, you can integrate your laundry area into the kitchen. Conceal your appliances behind cabinet doors, and your laundry room will seamlessly blend with your kitchen's aesthetic.
4. Reflective Surfaces and Lighting
Mirrors and Glass
Incorporate mirrors or glass elements into your small laundry room's design. These reflective surfaces will create an illusion of a larger space and enhance the overall aesthetics.
Ample Lighting
Good lighting is key to making any space appear larger and more inviting. Install bright LED lights or under-cabinet lighting to ensure your laundry room is well-lit and visually appealing.
5. Color and Decor Choices
Light and Neutral Colors
Opt for light and neutral color palettes for your laundry room's walls and cabinets. Light colors make a space feel open and airy, while neutrals provide a timeless and sophisticated look.
Decorative Accents
Add a pop of color and personality to your laundry room with decorative accents like vibrant wall art, colorful storage bins, or stylish curtains. These small touches can transform a mundane space into a delightful one.
6. Laundry Room Organization
Baskets and Bins
Use baskets and bins to categorize and organize laundry items. Label them for easy access, and you'll never waste time searching for lost socks or laundry essentials again.
Wall-Mounted Drying Rack
Install a wall-mounted drying rack that can be folded up when not in use. It's an excellent solution for drying delicate garments without taking up valuable floor space.
7. Hidden Laundry Room
Sliding Barn Doors
Consider installing sliding barn doors to conceal your laundry room when it's not in use. This not only adds a rustic charm but also keeps your laundry out of sight, maintaining a clutter-free ambiance.
Conclusion
Small laundry rooms can be a design challenge, but with the right ideas and strategies, they can also become functional, stylish, and space-efficient. By maximizing vertical space, choosing compact appliances, and implementing creative layouts, you can transform your small laundry room into an organized haven.